I received this book for free from Netgalley in exchange for an honest review. This does not affect my opinion of the book or the content of my review.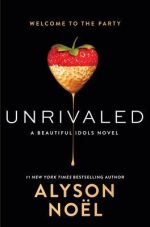 Unrivalled
by
Alyson Noel
Series:
Beautiful Idols #1
Published by
Katherine Tegen Books
on May 10, 2016
Genres:
Contemporary
,
Fiction
,
Mystery
,
Romance
,
Thriller
,
Young Adult
Pages:
432
Format:
E-Arc
Source:
Netgalley
Buy on Amazon
Goodreads
Everyone wants to be someone.
Layla Harrison wants to leave her beach-bum days for digs behind a reporter's desk. Aster Amirpour wants to scream at the next casting director who tells her "we need ethnic but not your kind of ethnic." Tommy Phillips dreams of buying a twelve-string guitar and using it to shred his way back into his famous absentee dad's life.
But Madison Brooks took destiny and made it her bitch a long time ago.
She's Hollywood's hottest starlet, and the things she did to become the name on everyone's lips are merely a stain on the pavement, ground beneath her Louboutin heel.
That is, until Layla, Aster, and Tommy find themselves with a VIP invite to the glamorous and gritty world of Los Angeles's nightlife and lured into a high-stakes competition where Madison Brooks is the target. Just as their hopes begin to gleam like stars through the California smog, Madison Brooks goes missing. . . . And all of their hopes are blacked out in the haze of their lies.
Unrivaled is #1 New York Times bestselling author Alyson Noël's first book in a thrilling suspense trilogy about how our most desperate dreams can become our darkest nightmares.
Hollywood Boulevard is a place best viewed behind a pair of polarized lenses and lowered expectations.
Yet if you know where to look (and if you're fortunate enough to boast a spot on the guest list), it's an oasis of the city's hottest nightclubs—a hedonistic haven for the young, fabulous, and rich.
But there's no exiting through the gift shop if you buy a ticket to this show. Once you push past the velvet ropes and pulsing crowds, you might never escape.
Praise for Unrivaled
"Like a good celebrity, Unrivaled is mysterious and compelling and so gorgeous you won't be able to look away."— Cecily von Ziegesar, author of the Gossip Girl series
"A glitzy, suspenseful, shamelessly addictive read." — Margaret Stohl, #1 New York Times bestselling author of Beautiful Creatures
"If you love Pretty Little Liars, you'll love this sexy teen drama where every choice poses a threat and nothing is what it seems."— Kami Garcia, #1 New York Times bestselling author
of Beautiful Creatures and Unbreakable
"Unrivaled will have you hooked from the very first page. Pure gold."—Jamie McGuire, #1 New York Times bestselling author of Beautiful Disaster
"Unrivaled reveals the dark, grittier side of fame and leaves the reader caught in a web of suspense and lies."—#1 New York Times bestselling author Jennifer L. Armentrout
I started Unrivalled not really being sure that this was really the book for me, and despite loving Noel's The Immortals series straight away, this book had a completely different vibe, but I like to give a book a chance to make amends and I am glad I did. Because this ended up being far better than I expected.
Despite the slow beginning and some waffle before Madison's disappearance this is a fast ride. And there are so many mysteries and things that need solving, all of it will keep you busy guessing.
Personally this seems to be more a book/series that I'll be able to binge read rather than wait in anticipation for the next book. At the end there was a MASSIVE CLIFFHANGER. Done in a way where it's the end of the story but not really the end. Does that make any sense? Anyway it's really annoying and I think all will be revealed in the next book. But that's a little unfair…. And it felt me feeling cheated!
Talking of the next book, I hope we get to stick with the same characters, and not have lots of new ones. I think there is a lot more that can be had from Layla, Aster, and Tommy, so fingers crossed!
My favourite character was Layla, perhaps because there was something more connectible with her? She immediately seemed likeable and she blogs, so a bit of a win? Aster I wanted to like, but I just couldn't quite, she is quite snooty and cares for herself. Tommy I am still not sure of, is he a genuine person or does he have a game p'an? I guess we will find out in the next book.
Unrivalled ended up being a gripping read and I was hooked. Now can I have the next book please?!
Subscribe to Blog via Email
Join 905 other subscribers