I received this book for free from Netgalley in exchange for an honest review. This does not affect my opinion of the book or the content of my review.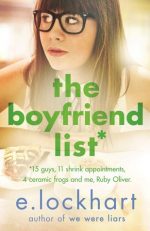 The Boyfriend List
by
E. Lockhart
Series:
Ruby Oliver #1
Published by
Hot Key Books
on July 14, 2016
Genres:
Contemporary
,
Fiction
,
Romance
,
Young Adult
Pages:
256
Format:
E-Arc
Source:
Netgalley
Buy on Amazon
Goodreads
5 Guys, 11 Shrink Appointments, 4 Ceramic Frogs and Me, Ruby Oliver
From E. Lockhart, author of the best-seller We Were Liars, and the highly-acclaimed The Disreputable History of Frankie Landau-Banks, comes this hilarious and heart-warming series.
Ruby Oliver is fifteen and has a shrink. But before you make up your mind about her, you should know that she has had a pretty awful (and eventful) past ten days. She has: * lost her boyfriend* lost her best friend (Kim)* lost all her other friends (Nora, Cricket)* did something suspicious with a boy* did something advanced with a boy* had an argument with a boy* drank her first beer (someone handed it to her)* got caught by her mom (ag!)* had a panic attack (scary)* lost a lacrosse game (she's the goalie)* failed a math test (she'll make it up)* hurt Meghan's feelings (even though they aren't really friends)* became a social outcast (no one to sit with at lunch)* and had graffiti written about her in the girls' bathroom (who knows what was in the boys'!?!).
But don't worry, Ruby lives to tell the tale. Through a special assignment to list all the boys she's ever had the slightest, little, any-kind-of-anything with, comes an unfortunate series of events that would be enough to send any girl in a panic.
The Boyfriend List explores the challenges of being a teenager through Ruby. Analysing her relationships with boys, friends and family. She tries to to work out how these relationships effect her and if these relationships are good for her.
This is a funny, clever and well written book. And one that will have you laughing at some of the antics that occur and will leave you with a positive vibe. Plus, I hope, with the realisation that your time at school was not that bad.
A fun, light-hearted read. That is filled with high-school drama, boy crushes, teen gossip and too many misunderstandings to count. All of which lead to some hilarious results. This is a book that can be easily read in the afternoon when you're not sure what it is you fancy read.
Ruby is funny, sarcastic and has a quirky sense of humour that makes reading her thoughts enjoyable. She did not whine or moan or prattle on.
For me the book did end a bit suddenly, not everything was resolved. But lucky there is a few more books in the series so we should be able to sort something out.
I really enjoyed reading The Boyfriend List, and I cannot wait to read the next book as I read this far quicker than expected.
Subscribe to Blog via Email
Join 906 other subscribers