I received this book for free from Publisher in exchange for an honest review. This does not affect my opinion of the book or the content of my review.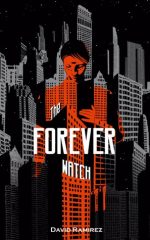 The Forever Watch
by
David B. Ramirez
Published by
Hodder & Stroughton
on January 1, 2014
Genres:
Dystopia
,
Fiction
,
Mystery
,
Science Fiction
Pages:
326
Format:
Paperback
Source:
Publisher
Buy on Amazon
Goodreads
An exciting new novel from a bold up-and-coming sci fi talent, The Forever Watch is so full of twists and surprises it's impossible to put down.
All that is left of humanity is on a thousand-year journey to a new planet aboard one ship, The Noah, which is also carrying a dangerous serial killer...
As a City Planner on the Noah, Hana Dempsey is a gifted psychic, economist, hacker and bureaucrat and is considered "mission critical." She is non-replaceable, important, essential, but after serving her mandatory Breeding Duty, the impregnation and birthing that all women are obligated to undergo, her life loses purpose as she privately mourns the child she will never be permitted to know.
When Policeman Leonard Barrens enlists her and her hacking skills in the unofficial investigation of his mentor's violent death, Dempsey finds herself increasingly captivated by both the case and Barrens himself. According to Information Security, the missing man has simply "Retired," nothing unusual. Together they follow the trail left by the mutilated remains. Their investigation takes them through lost dataspaces and deep into the uninhabited regions of the ship, where they discover that the answer may not be as simple as a serial killer after all. What they do with that answer will determine the fate of all humanity in David Ramirez's thrilling page turner.
The Forever Watch is a great mystery story. With a hunt for a serial killer that leads to a few surprises that could be detrimental to the whole of society. It is these little hints of a bigger mystery that actually pushes the book forward. The fact that this hunt, the cause of 'Mincemeat' is so much bigger than Leonard and Hana could possibly have imagined.
Yet despite this pull from the story to tell all the secrets, The Forever Watch was let down by pacing issues. One moment everything would be happening the next nothing, nada. It was pretty annoying. It felt like there was a lot of tooing and froing for my taste.
This is not a happy book, it is grim and gruesome and detailed. And while ever so slow (it does take place over numerous years) it shows how a society can change. From being an ordered and seemingly ideally Utopia into a garish nightmare that needs to be removed.
The best thing about the book? The ending. Not because I was so glad to get to the end but all the revelations made sense and it was (for me) pretty unexpected; I mean, it was a pretty hard revolution to anticipate. And emotional. Which normally only happens when something is super sad.
So if you don't mind the plot being slow then The Forever Watch is a great story. It has an awesome ending, and twists and turns to make it unpredictable, two great central characters and a secret that you really want to know! Trust me 😉
Subscribe to Blog via Email
Join 369 other subscribers