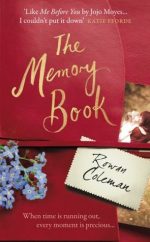 The Memory Book
by
Rowan Coleman
Published by
Ebury Press
on Feburary 24th 2014
Genres:
Contemporary
,
Fiction
Pages:
375
Format:
E-Arc
Source:
Netgalley
Buy on Amazon
Goodreads
The name of your first-born. The face of your lover. Your age. Your address...

What would happen if your memory of these began to fade?

Is it possible to rebuild your life? Raise a family? Fall in love again?

When Claire starts to write her Memory Book, she already knows that this scrapbook of mementoes will soon be all her daughters and husband have of her. But how can she hold on to the past when her future is slipping through her fingers...?

Original, heartwarming and uplifting, The Memory Book is perfect for fans of Jojo Moyes.
Having finished The Memory Book about five minutes ago, I feel that I have been on a roller-coaster ride, not for the thrills and spills but for the ups and downs. One moment I would be laughing, the next crying.
OK first off I need to admire the cover of this book. The cover is perfect, fitting in with Greg giving in Claire a dairy to fill with her memories, in her favourite shade of red. This makes it feel like you are holding a Claire's memories rather than a story – tying you closer to the characters.
Perhaps the intriguing think about this book is that it is while the story is about Alzheimer's, it is written in a way that is both uplifting and optimistic. It is a journey through the affects of a terrible illness. Yet the reader is taken beyond this. We see not only Claire's hopes and dreams for the future but also her daughter's – Caitlin. Beautifully portraying the unbreakable bond of mother and daughter, and the love and strength in a family.
The present is intertwined with the past, truly making this the memory book – a book to treasure. The Memory Book is a moving and compassionate book that will tug on your heart strings.
For fans of  Elizabeth Noble and Jojo Moyes.
Subscribe to Blog via Email
Join 369 other subscribers