I received this book for free from Own Copy in exchange for an honest review. This does not affect my opinion of the book or the content of my review.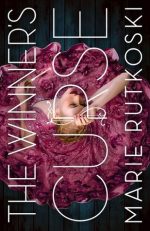 The Winner's Curse
by
Marie Rutkoski
Series:
The Winner's Trilogy #1
on July 3, 2014
Genres:
Fantasy
,
Fiction
,
Historical
,
Romance
,
Science Fiction
,
Young Adult
Pages:
359
Format:
E-Book
Source:
Own Copy
Buy on Amazon
Goodreads
Winning what you want may cost you everything you love...
As a general's daughter in a vast empire that revels in war and enslaves those it conquers, seventeen-year-old Kestrel has two choices: she can join the military or get married. But Kestrel has other intentions.
One day, she is startled to find a kindred spirit in a young slave up for auction. Arin's eyes seem to defy everything and everyone. Following her instinct, Kestrel buys him—with unexpected consequences. It's not long before she has to hide her growing love for Arin.
But he, too, has a secret, and Kestrel quickly learns that the price she paid for a fellow human is much higher than she ever could have imagined.
Set in a richly imagined new world, The Winner's Curse by Marie Rutkoski is a story of deadly games where everything is at stake, and the gamble is whether you will keep your head or lose your heart.
I came to The Winner's Curse not really knowing what to expect. I wasn't even sure if I would like it. To be honest, it seemed a bit strange, and dare I say it a bit boring. But then I started reading and I realised how wrong I was.
The world building in this story is vast, yet it is so natural and does not feel forced. I liked the references that were made to the Greek/Roman culture, which made, for me, the world much easier to understand and visualise. Overall it made Kestral's home seem so real, almost like we were reading about a far a way land.
The first part of the book felt a little slow as we had to deal with Kestral's indecisiveness (and to be honest she was a bit of a pain) and Arin (or Smith, depending on where you are in the story) behaving, well not as he should. I'm glad I didn't have to deal with him – he is not a very good slave. And then all the events seemed a little droll, there's lots of balls and picnics and fun to be had. I only kept going because of the offerings of tantalising clues about what was to happen.
But then the second half picks this all up and the book completely changes tone. Everything that was mysterious in the first half suddenly makes sense and the political games start.
Torn between two sides, will the right decision be made? Will Kestral and Arin finally be together? I loved that both characters were flawed in how they handled situations, despite their strengths (both have brilliant minds and are good strategists), but also they both grow and develop as the story goes on.
Pretty much everything about The Winner's Curse is perfect and I'm intrigued to see how the next book will turn out.
Subscribe to Blog via Email
Join 369 other subscribers