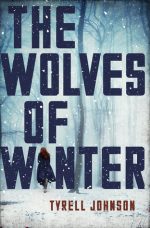 The Wolves of Winter
by
Tyrell Johnson
Published by
HQ Fiction
on January 11th 2018
Genres:
Dystopia
,
Fiction
,
Mystery
,
Science Fiction
Pages:
384
Source:
Publisher
Buy on Amazon
Goodreads
A captivating tale of humanity pushed beyond its breaking point, of family and bonds of love forged when everything is lost, and of a heroic young woman who crosses a frozen landscape to find her destiny. This debut novel is written in a post-apocalyptic tradition that spans The Hunger Games and Station Eleven but blazes its own distinctive path.

Forget the old days. Forget summer. Forget warmth. Forget anything that doesn't help you survive in the endless white wilderness beyond the edges of a fallen world.

Lynn McBride has learned much since society collapsed in the face of nuclear war and the relentless spread of disease. As the memories of her old life continue to haunt, she's been forced to forge ahead in the snow-drifted Canadian Yukon, learning how to hunt and trap and slaughter.

But her fragile existence is about to be shattered. Shadows of the world before have found her tiny community—most prominently in the enigmatic figure of Jax, who brings with him dark secrets of the past and sets in motion a chain of events that will call Lynn to a role she never imagined.

Simultaneously a heartbreakingly sympathetic portrait of a young woman searching for the answer to who she is meant to be and a frightening vision of a merciless new world in which desperation rules, The Wolves of Winter is enveloping, propulsive, and poignant.
Today I am super excited to introduce Tyrell Johnson, author of Wolves of Winter to talk about Writing Gwendolynn McBride (Or: A man writing a woman's perspective) as part of the bog tour. And Wolves of Winter is one book that will stick with you until the end.
Writing Gwendolynn McBride (Or: A man writing a woman's perspective)
If you'd pardon the phrase, and the irony, this took some balls!
What do I know about the way a woman thinks and acts? How can I create a believable, intriguing, relatable, female character, having experienced this world as a man? Whether or not I did this successfully is up to the readers, but the way I set about to do this was three-fold: 1. Have Help 2. Cheat 3. Empathize.
First and foremost, I definitely had help. My first reader of anything I write is my wife. She was an excellent critic and sounding board for whether or not my character was believable. Additionally, my agent is a brilliant female reader, who gave an enthusiastic thumbs up. And, finally, I had two fabulous editors, a man and a woman, to provide the perfect balance. So as much as Gwendolynn McBride is a creature of my imagination, she's been carefully nurtured to life by a team of both men and women.
Secondly, I cheated. And it was pretty simple. In the novel, I wanted the father/daughter relationship to be important. Because of this, Lynn idealizes her father and, in many ways, imitates him. This way, if there were any moments of "this sounds like a male perspective," I could simply point out the fact that she got it from her dad.
Finally, I had to be empathetic. The number one tool in a writer's tool belt, I think, is empathy. The ability to put yourself in your character's shoes, no matter their ethnicity, gender, or sexual orientation, is the heart of good fiction. So when I asked myself, how could I possibly write the novel from a woman's perspective, the answer was, if I wasn't going to tell the story through the eyes of a white male named Tyrell Johnson, then I had to get inside the mind of another person. That's what writing fiction is: imagining what it would be like to be someone else. Anyone else. So why not write a story about a feisty redheaded woman with a bow?
Subscribe to Blog via Email
Join 910 other subscribers