I received this book for free from Netgalley in exchange for an honest review. This does not affect my opinion of the book or the content of my review.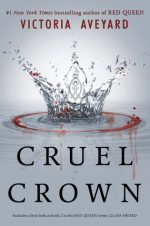 Cruel Crown
by
Victoria Aveyard
Series:
Red Queen #0.1
,
Red Queen #0.2
Published by
HarperTeen
on January 5, 2016
Genres:
Dystopia
,
Fantasy
,
Fiction
,
Novella
,
Romance
,
Science Fiction
,
Young Adult
Pages:
208
Format:
E-Arc
Source:
Netgalley
Buy on Amazon
Goodreads
Two women on either side of the Silver and Red divide tell the stories no one else knows.
Discover the truth of Norta's bloody past in these two revealing prequels to #1 NEW YORK TIMES bestseller RED QUEEN.
Queen Song
Queen Coriane, first wife of King Tiberias, keeps a secret diary—how else can she ensure that no one at the palace will use her thoughts against her? Coriane recounts her heady courtship with the crown prince, the birth of a new prince, Cal, and the potentially deadly challenges that lie ahead for her in royal life.
Steel Scars
Captain Farley was raised to be strong, but being tasked with planting the seeds of rebellion in Norta is a tougher job than expected. As she travels the land recruiting black market traders, smugglers, and extremists for her first attempt at an attack on the capital, she stumbles upon a connection that may prove to be the key to the entire operation—Mare Barrow.
Plus a Glass Sword sneak peek!
An exclusive excerpt of the hotly anticipated second book in the Red Queen series, Glass Sword, transports readers to the world of Silver tyranny, a Red dawn rising, and one girl's resolve to break down the system that will hold her back no longer.
So Cruel Crown is divided into two short stories, and at the end there is an extract for Glass Sword. I was a bit disappointed about the extract because I felt that I was partly cheated in the book. Probably because Glass Sword was published earlier in the year, so there is no need for a tantalising glimpse.
The first story is Queen Song. 
Queen Song is the shortest of the two, but it is also my favourite. I enjoyed learning about Queen Coriane, the mystery queen who had been mentioned briefly in Red Queen. It explains the back-story and why originally there was no Queenstrial.
While there is no action here, there is a simple elegance to the writing which makes this a breath-taking tale of love and redemption. The romance is sweet and honest, standing above all others.
This was an enjoyable short story that gave us some perspective on Cal's mother.
The second is Steel Scars.
I didn't really like steel Scars as a story as much as the first one. Mainly because the chapters of this story are divided by Scarlet Guard reports. These reports are confusing to decipher at the beginning of the story. And ended up making the story flow less well.
The best thing about this story is we get to read about the beginning of Shade and Farley's relationship, which after reading Glass Sword makes it all the more special.
Overall these stories in Cruel Crown are great little add-ons to a phenomenal series, they give more depth to the story, but it doesn't really matter if you don't read them, they are not going to change your view on the Red Queen series. But remember do not read this book unless you have read the series else spoilers will occur.
Subscribe to Blog via Email
Join 369 other subscribers