I received this book for free from Netgalley in exchange for an honest review. This does not affect my opinion of the book or the content of my review.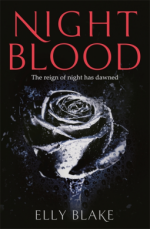 Nightblood
by
Elly Blake
Series:
Frostblood #3
Published by
Hodder & Stoughton Ltd
on August 21, 2018
Genres:
Fantasy
,
Fiction
,
Romance
,
Young Adult
Pages:
448
Format:
E-Arc
Source:
Netgalley
Buy on Amazon
Goodreads
The explosive finale of the New York Times bestselling Frostblood Saga, perfect for fans of the Red Queen and A Court of Thorns and Roses series.
Ruby's world has changed more than she ever could have imagined. She's in love with a powerful Frost King. She's the heir to the Fire Throne. And she may be a Nightblood--the spawn of a vengeful deity hellbent on releasing his wraithlike Minax from their prison. Once freed, these beasts will roam the earth, devouring every last person until he or she is nothing but an empty husk. But Ruby is able to control the Minax to a degree, and now she, her beloved Arcus, and her friend Kai must find a way to bring Frostbloods and Firebloods--sworn enemies--together to make a stand against a foe more deadly than any they've faced.In this heart-pounding finale of Elly Blake's gorgeously written and action-packed Frostblood Saga, the fate of Frostbloods, Firebloods, and all of humanity is at stake.
I have been so excited to read this book that I actually devoured it in a few hours. Nightblood was as I had predicted and tied up all the loose ends that were still floating around from Fireblood.
But it had a couple of tropes typical of ya – an awkward love triangle, an entitled chosen one – however I was still entertained by this fast-paced tale. There was a consistent story that pulled all the threads of the previous books together and wove a compelling, entertaining, action packed story.
So this was the final book in the series, yet when I was reading this it felt like the middle of the series. And the ending was such a rush. I felt like the ending was just given to us on a platter because that was what was expected. A lot of the story telling was talking up with romantic tryst and arguing over who was better. And I did spend a lot of the book wishing that they would get on with it. After all with the world ending there is not much time to spare.
But despite my moans above this was a cracking book. And no matter what I loved it. There is a darker tone to this story as Ruby struggles to contain the Minax and feed off its dark thoughts. It means there is a few moments where everything could fall apart and the world could end in a blink of an eye.
Nightblood was a entertaining finale and means that i can now read the series one after the other. So time to kick back and binge read.
Subscribe to Blog via Email
Join 369 other subscribers